WELCOME TO THE DUBLIN NATURALISTS' FIELD CLUB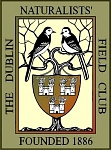 The Dublin Naturalists' Field Club was founded in 1886 and early members included Nathaniel Colgan (1851-1919) author of A Flora of County Dublin and Robert Lloyd Praeger (1865-1953) whose publications included Irish Topographical Botany and The Way that I Went, and has the general aim of promoting interest in all branches of natural history..
The Field Club's activities are educational and it aims to provide opportunities for members to share their interests in, and learn about, the natural history of our environment. Outdoor field meetings and indoor workshops or discussions are held throughout the year. Most of our events are held in County Dublin and its neighbouring counties.
We are concerned with the conservation and protection of scarce and threatened plants and animals and the protection of sites of scientific interest. Our membership includes both amateur and professional naturalists. Interest and enthusiasm are the only qualifications needed.
Our main activities are field meetings held mainly in County Dublin and in the adjacent counties of Wicklow, Meath and Kildare. We are a member of the Federation of Irish Field Clubs which includes our sister club the Belfast Naturalists' Field Club and we hold joint meetings either in the island of Ireland or elsewhere.
Publications of the Field Club include the Flora of Inner Dublin, Flora of County Dublin, Ireland's Butterflies and a butterfly identification chart Guide to the Butterflies of Ireland. The Field Studies Council's Guide to Ladybirds may also be ordered from our publications page.
Current projects are a revision of Hart's Flora of Howth and the Dublin Ladybird Project.

You may go directly to Ladybird Records Page to send in your ladybird records.
Officers of the Dublin Naturalists' Field Club
President: Sunniva Hanley – President@dnfc.net
Vice President: P. J. Walls
Hon. Vice President: Declan Doogue
Company Secretary: Tom Miniter – Company.Secretary@dnfc.net
Hon. Secretary: Charles Shier – Honorary.Secretary@dnfc.net
Membership Secretary: Fridolin Kerr – Membership.Secretary@dnfc.net
Enquiries about Company Business only to be made to the Company Secretary. Other enquiries as appropriate to Hon. Secretary or Membership Secretary.
We are a company limited by guarantee 270016 and a registered charity 20031312. Registered address is 35 Nutley Park, Dublin 4, D04 W2N2