GUIDE TO THE BUTTERFLIES OF IRELAND
This is a lightly laminated fold-out guide designed for the identification of butterflies in the field. On one side there are photographs of all the species which you are likely to encounter in Ireland and on the reverse side you will find information on habitat and time of flight.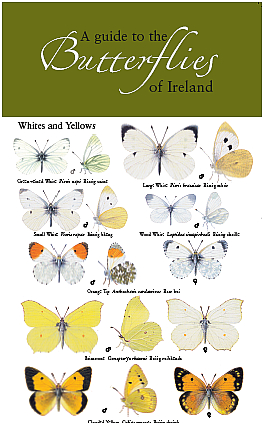 The Chart when folded is 180 mm x 297 mm in size and opens out into three panels. Side one has 69 full coloured illustrations of butterflies originally from paintings by Richard Lewington the well known butterfly illustrator.
The butterflies are grouped together as "browns", "blues" etc. The 28 resident Irish butterflies are shown and views of underwing of both male and female where there is a significant difference in appearance. The three most frequent immigrants are also included.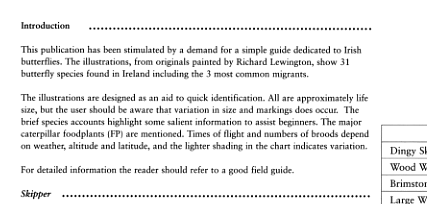 Price €6.00 for one copy (includes p & p) from the Dublin Naturalists' Field Club, 35 Nutley Park, Donnybrook, Dublin D04 W2N2. Email: orders@dnfc.net
You may order using PayPal (including credit card below)
Due to Covid-19 Restrictions there may be a short delay in dispatching your order.

GUIDE TO LADYBIRDS OF THE BRITISH ISLES
This publication by the UK Field Studies Council is a four panel fold-out field guide covering all the ladybirds species known to be resident in Britain and Ireland. A small number of the species are currently not known to be resident in Ireland but the chart will facilitate the identification of the adult form of any found here.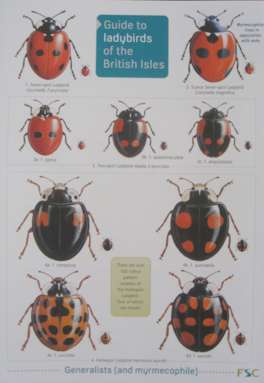 You may order copies from the Dublin Naturalists' Field Club through your PayPal account (including by credit card below at €6.00 for a single copy post free to Ireland. Further information may be obtained from orders@dnfc.net.

IRELAND'S BUTTERFLIES, A REVIEW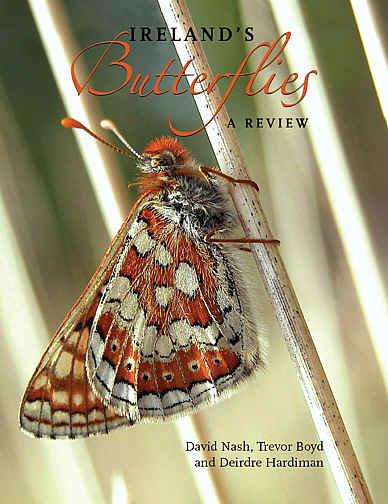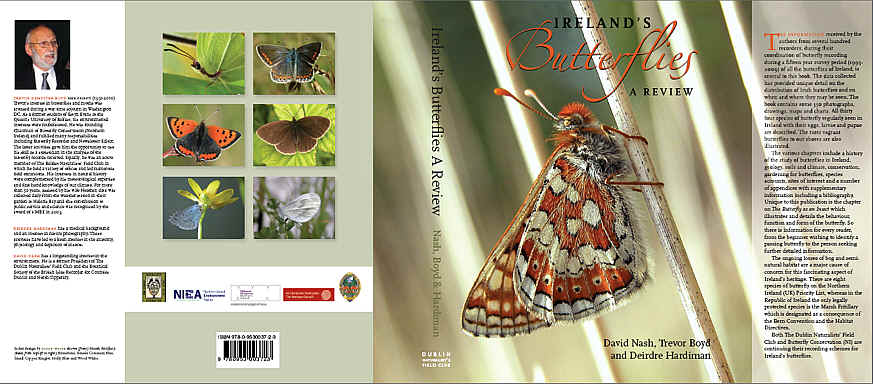 THE INFORMATION received by the authors from several hundred recorders,
during their coordination of butterfly recording over a fifteen year survey period (1995-2009) of all the butterflies of Ireland, is central to this book.
The data collected has provided unique detail on the distribution of Irish butterflies and on when and where they may be seen. The book contains some 350 photographs, drawings, maps and charts. All thirty four species of butterfly regularly seen in Ireland with their eggs, larvae and pupae are described. The rarer vagrant butterflies to our shores are also illustrated.
The various chapters include a history of the study of butterflies in Ireland, geology, soils and climate, conservation, gardening for butterflies, species accounts, sites of interest and a number of appendices with supplementary information including a bibliography. Unique to this publication is the chapter on 'The Butterfly as an Insect' which illustrates and details the behaviour, function and form of the butterfly.
So there is information for every reader, from the beginner wishing to identify a passing butterfly to the person seeking further detailed information.The ongoing losses of bog and semi-natural habitat are a major cause of concern for this fascinating aspect of Ireland's heritage. There are eight species of butterfly on the Northern Ireland (UK) Priority List, whereas in the Republic of Ireland the only legally protected species is the Marsh Fritillary which is designated as a consequence of the Bern Convention and the Habitats Directive..
ISBN 978 0 9530037 2 3. Hardback. All colour printing, 272 pages.
Published by The Dublin Naturalists' Field Club, 35 Nutley Park, Dublin D04 W2N2
Still available (see below) by post for £30.00

Due to Covid-19 Restrictions there may be a short delay in dispatching your order.

FLORA OF COUNTY DUBLIN
The Flora of County Dublin, was published by members of the Dublin Naturalists' Field Club, in 1998, as the outcome of two decades of field work in the County. It is a revision and update of Nathaniel Colgan's Flora. The editors were Declan Doogue, David Nash, John Parnell, Sylvia Reynolds and Peter Wyse Jackson.